About
I am a Computer Science teacher at a public secondary school (high school) in Tripolis, Peloponnese, Greece. I have extensive experience in teaching a wide variety of courses to students aged from 6 years old to mature adults and experience in teaching in multicultural settings.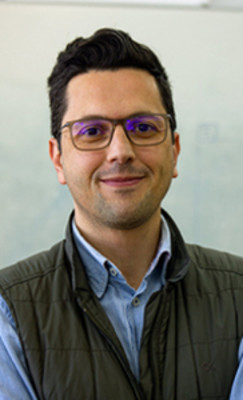 Postdoc Researcher & Educator
I received my graduate degree in Informatics from the Piraeus University of Applied Sciences - Automation Department (Greece), and my Master's degree in Information Technology from the University of the West of Scotland (UK) - Computing School. In June 2017 I received my Ph.D. at the University of Peloponnese (department of Informatics and Telecommunications) in the field of Computer Science Education. I have been very fortunate to study with extremely rigorous academic professionals who are genuinely committed to teaching and mentoring.
Birthday: June 1978
Website: www.ict.mysch.gr
Phone: +30 2710 372264
City: Tripoli, Peloponnese, Greece
Age: 42
Degree: PhD
Email: ttheodor[at]uop[dot]gr
Personal Statement
As an educator, I perceive my main objectives as two-fold. On the one hand, I help students develop their understanding of ICT and build up valuable skills necessary to nearly any field. On the other hand, I provide opportunities for student critical thinking scaffold that reinforce reflective skills and help them understand not only how to perform a function, but also justify how they arrived at that solution. I try to reconcile these two objectives in my teaching practice instead of considering them separately.
My key metrics :)
My key metrics :)
14
Years - as a CS teacher in Greek secondary education, firm believer of Game-Based Learning and kids' coding
19
Publications - in peer reviewed journals, book chapters and conferences during the last 5 years
7
Years - as EU Code Week Ambassador, a grassroots initiative about coding and digital literacy, #CodeWeek
2
Kids - and above all proud father and husband
Skills
I am a very organised person, flexible, passionate, motivated (willing to learn), teamworker and I can communicate very well with my co-workers.
Media Production Software 80%
Educational Technologies 90%
Unity (game developement) 75%
Resume
I am a postdoctoral researcher in the field of games and learning technologies and CS teacher at Greek secondary education.
Sumary
Anastasios Theodoropoulos
Innovative CS teacher with 15+ years of experience developing-researching student-centered pedagogies.
Tripoli, Peloponnese, GR
+30 2710 372264
ttheodor[at]uop[dot]gr
Education
Postdoc & Digital Games in programming learning
2020
HCI-VR LAB, Department of Informatics and Telecommunications, University of Peloponnese, Greece
Post doctoral research on digital games and programming learning.
MSc & Information Technology
2010
University of the West of Scotland, UK
Master of Science from the Computing School of UWS in Information Technology with Management Stream (2 years).
BSc & Automation Engineer
2004
Piraeus University of Applied Sciences
Bachelor of Science for the department of Automation, Technological Education Institute of Piraeus, now called University of West Attica, Greece (4 years).
Additional
Languages
Greek (native)
English (excellent)
German (good)
Programming
Professional Experience
Automation Engineer
2004 - 2005
Daltec SA, Athens, Greece
Lead in the design, development, and implementation of the graphic, layout, and production communication materials
Delegate tasks to the 7 members of the design team and provide counsel on all aspects of the project.
Supervise the assessment of all graphic materials in order to ensure quality and accuracy of the design
Teaching Experience
TBC
2004 - 2005
Daltec SA, Athens, Greece
Athens 2004, Olympic Games
2003-2004
IT supervisor, Athens, Greece
Publications
A selection of recent journal publications, conferences & workshops & book chapters.
- Theodoropoulos, A., & Lepouras, G. (2020). Digital Game-Based Learning and Computational Thinking in P-12 Education: A Systematic Literature Review on Playing Games for Learning Programming. In Handbook of Research on Tools for Teaching Computational Thinking in P-12 Education (pp. 158-179). IGI Global.
- Theodoropoulos, A., Vassilakis, C., Antoniou, A., Wallace, M., & Lepouras, G. (2019, September). ATMF: A Student-Centered Framework for the Effective Implementation of Alternative Teaching Methods for CSEd. In Conference on e-Business, e-Services and e-Society (pp. 116-127). Springer, Cham.
- Theodoropoulos, A., Antoniou, A., & Lepouras, G. (2016). How do different cognitive styles affect learning programming? Insights from a game-based approach in Greek schools. ACM Transactions on Computing Education (TOCE), 17(1), 1-25.
All
Journals
Book Chapters
Conferences
TBC
Research Interests
I do research on Game-Based Learning, Computer Science Education (Programming methods, environments and techniques), Immersive Learning Technologies, CHI, Game Design and Games. I pursue research concepts such as user experience modeling and procedural content generation for the design of personalized interactive systems for learning. Lately, I have been involved in projects that combine interactive technologies with arts and culture.
TBC
Contact
You can contact me eiter by email or by using the form below. Feel free to send your message.
Location:
Department of Informatics and Telecommunications Faculty of Economics and Technology University of the Peloponnese Akadimaikou G. K. Vlachou Street GR-221 31 Tripoli, Greece
Emails:
ttheodor[at]uop[dot]gr, tt[at]sch[dot]gr
Call (office):
+30 2710 372264